We will provide an outstanding experience for you and your team
Active Competitions are the best way to get your group working together in a fun and energy focused team building event. If your group is looking to challenge their physical and metal abilities – these events will exceed your expectations on all levels.
When you need Baseball games, we have everything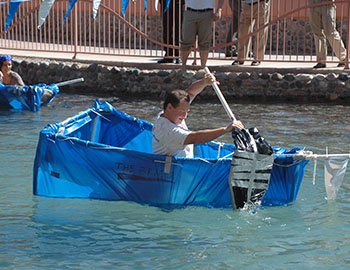 BYOB – Build Your Own Boat
Let us turn your group into a sailing crew! They will be split into crews and tasked with designing a sailing vessel and then attempting to build it!
In this charity focused team building activity teams will work together to build a structure with up to 500 cans.
Catapults have been around for centuries, an old war machine that brings plenty of fun to our generations even today! Teams will create three different designs of catapults throughout the night.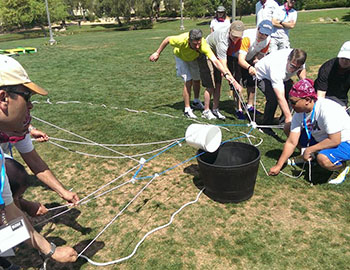 This program is built for inter company fun and competition. This exciting Olympic style event has some similar games and activities with a little twist.
Teams become "families" who are setting out to be Trail Blazers in Arizona's Wild West.
We run this program in a tournament style team format. Family Feud is computer generated and displayed on a big screen.
Let us coordinate your 5k Fun Run! We will design and coordinate the layout of the course and provide cones, signage and arrows to guide Runners & Walkers throught the course.
The overall goal of this event is to build and design a functional putting hole while sharpening your teamwork skills.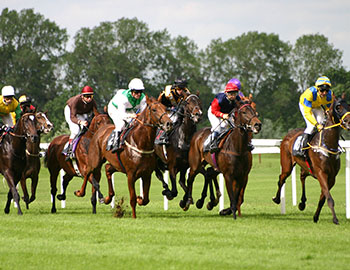 Actual horse racing that's been video taped using five cinematography cameras and narrated from start to finish by many of America's top-rated announcers.
Help us breakdown the wall of hunger!! In this team building activity teams will be put to the test.
"What are you willing to do for your team?" Teams will be put to the test and compete head-to-head against other teams in competitions like "Junk in the Trunk" and Puddle Jumper".
Let's play Jeopardy! This Show will be played tournament style. Each team will assign a "Captain" and select a team name.
Ladies and Gentlemen, start your engines! Four players will grab hold of the race wheel and each player will control their very own 1:10 scale NASCAR racecar.
In the mood for fast paced team building excitement? Then our Mini Race Car Derby is just the event to make your group rev up to success by working together to achieve a common goal.
This highly entertaining and exciting event features our young, motivated Vietnamese Potbellied Pigs racing each other for the prized Oreo Cookie that waits at the finish line for the swiftest swine.
Given only a back pack, teams will be sent on different missions in an Olympic arena type setting.
Let us take your group and turn them into southwestern chefs! Teams will get all the supplies they need to make a chili, design a billboard and create a commercial presentation.
Survive this Olympic inspired event with physical challenges that resemble what the Castaways have to experience.
If you are ready to compete, we are ready to set the brackets! There are many tournament options
2 – 4 Racers will hop on our Giant Adult Sized Tricycles, line up at the starting line and off they go!  The first racer back to the finish line wins!
To provide an outstanding experience from the first call at our office until the completion of the event and beyond!
We will do this by getting information to clients in a timely manner and running events with the highest quality games, activities and staff. We will guarantee that each and every detail and need of the client is fulfilled making the entire event process easy and successful!